Reviews from Our Valued Customers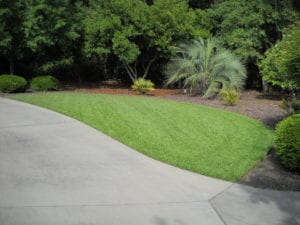 Pleasant Landscapes has been providing a full line of landscaping services for residents in Mt. Pleasant, Sullivan's Island, Daniel Island, Isle of Palms, Charleston, and the entire surrounding area since 1991. We are the largest residential service in the area and the oldest. The reason for this is our unmatched customer service and attention to detail. Your happiness is our number one priority which is why we love to see reviews from our valued customers. If you've worked with our landscaping team and loved our services, please share your excitement with other residents in the area. Whether you appreciate our attention to detail during routine maintenance or our design team helped you create the outdoor space of your dreams, we'd love to hear the details!
Tell Mount Pleasant Residents What You Love About Our Service!
Our landscaping teams provide a variety of services in many areas. Tell your friends and neighbors how we improved your landscape. Perhaps you love how our landscape maintenance team keeps your vacation property beautiful throughout the entire year. Maybe our talented landscape designer created a backyard oasis that transformed your outdoor living space. Did our landscape installation specialists install a swimming pool that renewed the way your family spends time together?
No matter what type of landscaping service we've provided for you and your family, we'd love for you to share the details.
What type of landscaping services did our team provide for you?
Did you have hardscapes or products (patio, swimming pool, fountain, outdoor lighting) installed? Are you happy with the quality of these products?
How was our service? Did every member of the team stand by our no-nonsense service guarantee?
Did you have the opportunity to use our 3D imaging services?
What did you like best about your experience with Pleasant Landscapes?
Which of our service areas do you reside in?
Did a specific team member go above and beyond your expectations?
Have you received similar services from other companies? How did our team compare?
A Few Words from Customers Who Enjoy Working With Us
Thank you to our loyal customers who have taken a few minutes to post these reviews on Angie's List and Google Reviews!
Our Pleasant Landscapes Delighted Customer Goal
Every member of the Pleasant Landscapes staff enjoys providing our customers with outstanding service. Our goal isn't simply satisfaction. We want you to be delighted. Knowing our customers are thrilled with our service motivates the team to keep working hard to meet the landscaping needs of residents in this beautiful area. If you weren't thrilled with our services, we want to know that too. Give us a call, and we'll make sure you get the service you deserve.
Our unique service guarantee doesn't promise satisfaction. We promise "You'll love it!" We stand by that promise by listening to your input and ideas, providing efficient work without cutting corners, and using the very best products available. We sweat the small stuff so you don't have to, and that's why customer reviews are so important to our company. Your feedback lets us know how to continually improve our services and consistently delight our valued customers over and over again.
Ready to Share Your Pleasant Landscapes Experience?
Thank you so much for choosing our team to provide you with the landscaping services you need on your Low Country SC property! Our customers are the most valuable members of our team. We wouldn't be here without you. We appreciate every word of feedback received from our customers. If you've worked with us in the past, please take a moment to leave a brief review. If you're seeking landscaping services in the Charleston, Sullivan's Island, Isle of Palms, or Daniel's Island areas, don't hesitate to get in touch with our experienced landscaping team.  We're available to answer your questions, provide a quote, or schedule an appointment, any time.
What Are People Saying About Pleasant Landscapes?
"Your guys did a wonderful job! You're my ONLY company now! "
- Constance D. from Hanahan
"In an era of sloppy work by people who don't care what they are doing, it was a breath of fresh air to have your crew do the work on our trees."
- Jan and Doug H.
"My new lawn looks great! Their crews worked so hard in severe heat. I really appreciate their efforts! Please convey my appreciation to all your crew and management."
- Judy M. of Mt. Pleasant
"The repair technicians are so professional, honest and knowledgeable. Thank you very much!"
- Chris G. of Mt. Pleasant
Rest easy with landscape services from Pleasant Landscapes. From lawn care, tree care and plantings to seasonal clean-up, your property will always be pristine.